It's not the first time I visit the AM/Jag dealer (obviously
), I got in touch with the JAguar brand manager and one lead to another ... one day I had an appointment for a testdrive in the new XK model, the R.
Arriving there, they toldl me the XKR isn't going on the road (static display) but the XK would be ready for me
Fine for me!
To get the car for myself alone gave me more time to shoot pictures than with a somebody waiting besides.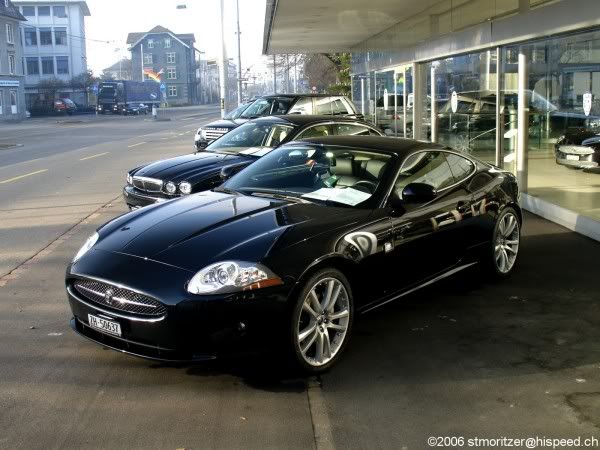 .
Since TT already drove that car and I'm lazy, I'll comment TT's comments
Specifications
Engine - V8, 4196 cc
Power - 300 hp @ 6'000 rpm
Torque - 420 Nm @ 2'100 rpm
Weight - 1'595 kg
Fuel Tank - 70 l
Max Speed (declared) - 250 km/h limited
Acceleration (declared), 0-100 km/h - 6.2 s
Fuel economy (out of town / town / mixed) - 8.1 / 17.1 / 11.3
Tranny - 6 gears auto with paddles
Seats - 5
Doors - 4
Lenght / width - 4'791 mm
Height - 1'322 mm
Boot - 300 liters with spare wheel, 330 with runflat tires
Exterior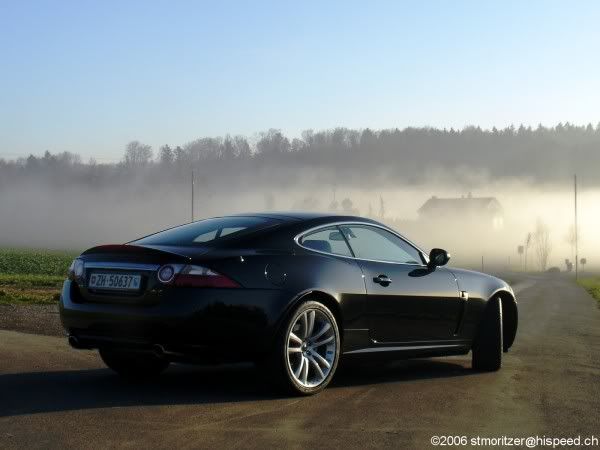 Honestly, the new XK with the right wheels like this one just rocks visually! Agressive and elegant, a very classic and beautiful shape! As many cars, sexiers in the metal rather than in pics.
HOnestly, this one, in this color with these wheels is close to perfection IMO!
agree: the silver grey-combo was hot, IMO the darker color give the car more elegance, the shape of the car suffers a little with the black. The overall lines of the car (AstonMartin influenced) is to die for in black.
The wheel are a big part of the look, and those ons are cool.
Interior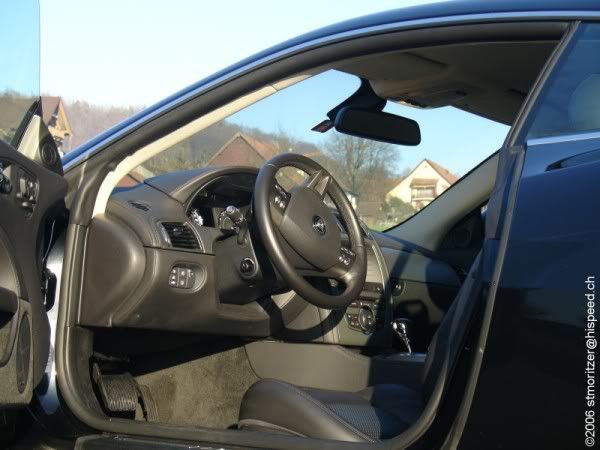 It's, well, elegant and cozy! Beautifully crafted, full of buttons and good quality materials, you sit in and feels at home! Everything is at reach and even if there wasn't an engine at the front it could be a nice place to be. The driving position is good and the seats although not rally like, provide some comfy support afterall.
The car is packed with luxury features obviously, as you might expect from a 100k USD car I guess, some seem pretty useless at first like the fact you can turn on the driving lights with a button in your key
how cool is that? To take pics is fucking brillant and it works from far away! Cool!
on my picture, it looks too "normal"
, another color combo would fit better maybe.
TT mentioned the main points, I felt the same: Seats, dashboard, buttons, view... appropriate for a sportif-cruiser
here's a jaguar-photo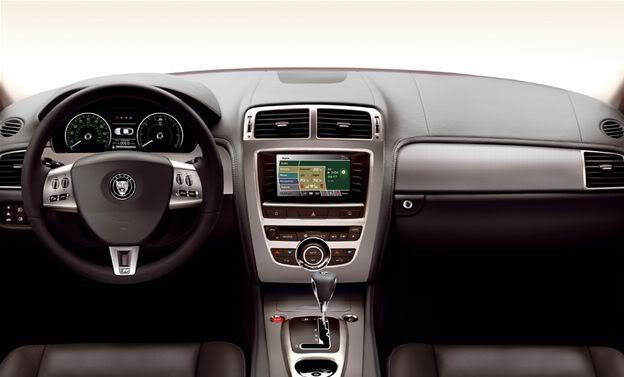 How does it drive?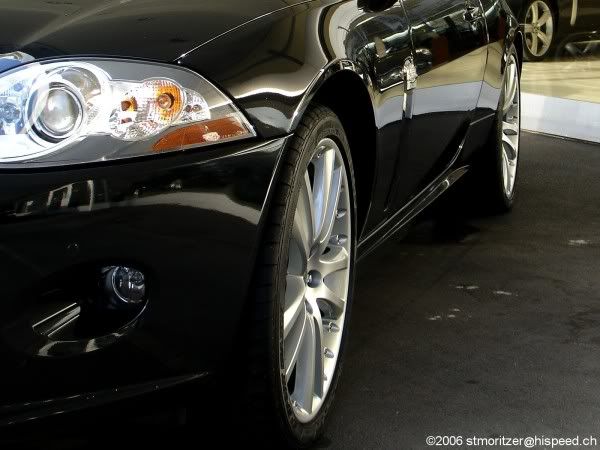 Your fire up the engine and right away it starts to purr and caress your hear even at idle. When the first streth of open road opens up you nail the trottle to the carpet, the engine revs to the redline and the cabin is filled with some VERY beautiful V8 melody. Actually one of the most musical cars I ever drove! Never too much yet always there, it's really an engine note that makes you prod the throttle countless of times even when totally not needed! A 6.2 sec to 100 might not seem so fast these days, but honestly, the car feels perfectly quick enough for everyday's needs! The semi-auto tranny is well... still an auto thing and on a short testdrive you can't really appreciate it. but it seemed quick and precise enough at least.
Traction is good, but I wasn't in hooligan mode anyway. But at quick speed the XK manages to tame every fast sweeper the road will throw at it with no sweat. It has a precise steering and firm suspension; firm but still pretty much a cruiser and long distance in it will never be a prob, I am sure about it.
I really enjoyed the ride and it was hard to decide it was time to stop again for some pics.
Of course for the same price you can have a 911 which does everything better. Yet, I am wondering if, given the money, I'd go for a 911 or an XK, possible an R
TT, you drove more than I did, since my trip was ~20km near a city :bah:
agree with the deep V8 sound, some where I should have a video file...
Enough power to cruise in the "understatement mode = no need to drive hi revs to catch up" and the few cures I did gave me a good feeling, precise steering, you feel connected to the road.
Would love to make some mountain roads with this one
What are the most positive features of the car?
Engine sound
Elegant lines, sportif cruiser
Proper interiour
What are the most negative features of the car?
looks similar to an AM, but isn't
Conclusion
Even if I didn't know exactly what to expect, the XK surprised me and appeared to be a really good car, one of those cars that can make you smile even on a grey and rainy day.
I second that, an allday drive which gives you pleasure while driving to work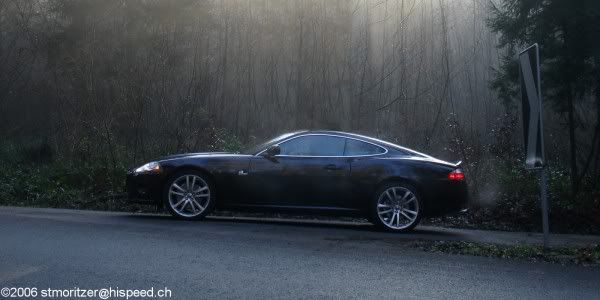 8)